SEND
All Cornwall maintained schools have a similar approach to meeting the needs of pupils with SEND (Special Educational Needs or Disabilities) and are supported by the Local Authority to ensure that all pupils, regardless of their specific needs, make the best possible progress in school.  All schools are supported to be inclusive, with the needs of all SEN pupils being met in a mainstream setting wherever possible.
At Carbeile Junior School we are committed to providing a wide range of learning opportunities which are accessible to all. We work closely with parents, carers, and when required outside agencies, to ensure that every child's needs are met appropriately.
The school has a 'Graduated Approach' to SEN to ensure that appropriate levels of support are put in place for individual pupils.
Local Offer
Cornwall's SEND Local Offer describes the provision that is available for children and young people with Special Educational Needs and Disabilities (SEND) and their families. Cornwall's SEND Local Offer website helps families by gathering in one place, the information that they need to know in order to make informed choices about the support they receive.
Cornwall's SEND Local Offer can be found HERE
Thrive at Carbeile Junior School
At Carbeile Junior School the social and emotional development of our children is a key priority. We implement different strategies to support these needs using resources from The Thrive Approach, Trauma Informed Schools and Animal Therapy. 
We believe that every child needs to feel that they belong, that they matter and that they are valued for their unique qualities. Like all of us at some point in our lives, children face challenges that knock them off course. What is then needed is understanding and support to get them back on track. At Carbeile Junior School we work hard to support the children through these difficult times, using art, music and play based activities.
Building Resilience and Self Esteem
We like to engage our children in exciting learning opportunities where they can build the resilience and self esteem! Check out our SEN girls' football event!
Thrive Assessments are used to provide personalised programmes for classes, groups and individuals.
Every child is supported in their social and emotional development which is embedded in all that we do. Class assessments identify needs of specific classes. However, some children may benefit from individual support. 
The Thrive Practitioners work in the 'Thrive Room' and 'The Willow Room', which have both been set up to create a safe, calm and relaxing environment. 
For further information about the approaches, please visit www.thriveapproach.com and www.traumainformedschools.co.uk
More ideas to help build resilience and self esteem – Click here! 
Speech and Language
At Carbeile Junior School we provide specialised speech and language support for pupils who require intervention. Our weekly interventions are provided to support the individual needs of each child. Each child has termly assessments to ensure their provision is appropriate for their needs and to ensure progress is made over time.
Our aim is to support and develop skills that currently prevent children's speech and language development or cause any delays to learning. We work to:
Improve working memory,
Develop verbal and non-verbal communication,
Develop  and extend vocabulary,
Develop expressive language,
Provide support to achieve effective communication skills.
The weekly interventions are currently delivered by Mrs Birch-Roberts, our Speech and Language Champion.
Jigsaw and Lego
Our Autism Champion, Mrs Church, delivers a social skills intervention each week to small groups of children who might need some extra help working in groups and forming and maintaining friendships. The Lego Jigsaw room has a sensory wall, a fish tank and some comfy spaces to sit – it's a calm space where children can practice their socials skills with careful scaffolding from an adult.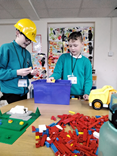 Animal Therapy
We are lucky enough at Carbeile to have a school Therapy Dog called Kit. He visits every week and support children with their emotional regulation, reading, coming into school and more! We also have a wonderful Rat Pack, Junior Bee Keepers, Rabbit Rangers and school chicks (soon to be chickens!)